In response to President Barack Obama's announcement that he supports marriage equality for the LGBT community, Mississippi state Rep. Andy Gipson (R) said that the "only opinion that matters is God's." He then invokes the Christian biblical passage, Leviticus 20:13, which states that gay men should be "put to death."
Want to Keep Up With NewsOne.com? LIKE Us On Facebook!
Leviticus 20:13: "If a man has sexual relations with a man as one does with a woman, both of them have done what is detestable. They are to be put to death; their blood will be on their own heads."
Huffington Post reports Gipson's Facebook conversation below:

Then, veering even further away from politics and delving deeper into Old Testament religious doctrine — which also states that the earth is flat, snakes can talk, whores should be stoned to death and you should kill your neighbor for working on a Sabbath, Gibson had this to say: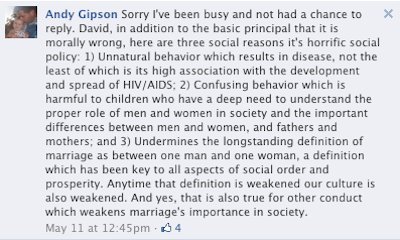 Mississippi constituents at UnityMS flagged the post, reminding Gibson just who employs him:
Mr. Gipson needs to realize he represents all of his constituents. He should not cherry-pick which constituents he wants to work for. He should also realize his positions are neither popular nor Republican. LGBT individuals, couples, and families help pay Gipson's salary. It's important that he remember that.
According to the Post, "a November 2011 survey found that only 13 percent of Mississippi voters support marriage equality for the LGBT community, while 78 percent said it should remain illegal. Even among Democrats, only 19 percent expressed support."
Is anyone surprised?
SEE ALSO:
Jeremiah Wright Resurrected By The Right…Again!
Trayvon Martin 7-11 Video Released
Also On News One:
34 Photos That Will Make You Miss The Obama Family Already
1. First Family Portrait
Source:Getty
1 of 50
2. Two Terms
Source:Getty
2 of 50
3. Family Portrait
Source:Instagram
3 of 50
4. Barack Obama and Michelle Obama
Source:Alex Wong/Getty Images
4 of 50
5. Fun In The Sun
Source:Instagram
5 of 50
6. The Obamas on Air Force One
6 of 50
7. Hawaiian Holidays
Source:Instagram
7 of 50
8. The First Family in London
8 of 50
9. A Young Malia & Sasha
Source:Instagram
9 of 50
10. First Lady Michelle Obama with daughters Malia Obama and Sasha Obama
Source:Getty
10 of 50
11. Daddy's Girl
Source:Instagram
11 of 50
12. Barack & Sasha
Source:Instagram
12 of 50
13. Sasha and Malia Obama at the 2016 State Dinner
Source:Getty
13 of 50
14. Turkey Pardoning
Source:Getty
14 of 50
15. Sunday Church
Source:MANDEL NGAN/AFP/Getty Images
15 of 50
16. Gobble, Gobble
Source:Chip Somodevilla/Getty Images
16 of 50
17. Obama & Sasha
Source:Instagram
17 of 50
18. Malia Obama, the First Daughter
Source:Getty
18 of 50
19. Barack Obama and his daughter Malia Obama
Source:BRENDAN SMIALOWSKI/AFP/Getty
19 of 50
20. Team Obama
Source:Instagram
20 of 50
21. A Family Affair
Source:Getty
21 of 50
22. Flashback To The Old Days
Source:Getty
22 of 50
23. Happy Birthday!
Source:Getty
23 of 50
24. Candidly Awesome
Source:Pete Souza/The White House
24 of 50
25. The Obamas Family Portrait
Source:Instagram
25 of 50
26. Historic First Family
Source:Getty
26 of 50
27. Ice Cream Treat
Source:Aude Guerrucci-Pool/Getty Images
27 of 50
28. TV Time
Source:Pete Souza/The White House
28 of 50
29. Playing In The Oval Office
Source:Instagram
29 of 50
30. Always Giving Back
Source:Getty
30 of 50
31. A Christmas Story
Source:Paul Morigi/Getty Images
31 of 50
32. Hawaii Trip!
Source:Getty
32 of 50
33. Obama Loves Team USA & His Wife
Source:Getty
33 of 50
34. Malia and Sasha Obama
Source:SAUL LOEB/AFP/Getty Images
34 of 50
35. Michelle Plays on a Bike
Source:Mark Wilson/Getty Images
35 of 50
36. Obama Loves Team USA, His Wife & Malia
Source:Getty
36 of 50
37. Reading Time
Source:Getty
37 of 50
38. Family Support
Source:Getty
38 of 50
39. The Sister Selfie
Source:Pete Souza/The White House
39 of 50
40. Supporting Mom
Source:Pete Souza/The White House
40 of 50
41. Giving Back On MLK Day
Source:Getty
41 of 50
42. Obamas Give Back To The Community
Source:Getty
42 of 50
43. Always Supporting Small Businesses
Source:Getty
43 of 50
44. Obama Swagger
Source:MANDEL NGAN/AFP/Getty Images
44 of 50
45. Laughs & Turkeys
Source:Getty
45 of 50
46. Growing Up In The White House
Source:Instagram
46 of 50
47. Christmas With The Obamas
Source:Getty
47 of 50
48. Malia & Obama
Source:Instagram
48 of 50
49. 50th Anniversary Of March On Selma
Source:Getty
49 of 50
50. Christmas Tree Lighting
Source:Olivier Douliery- Pool/Getty Images
50 of 50