When asked by People Magazine, who is the one person in the world she would be if they could trade places, First Lady Michelle Obama said — wait for it — superstar Beyoncé Knowles.
"Gosh. If I had some gift, I'd be Beyoncé, I'd be some great singer," said arguably the most popular, accomplished and beautiful woman in the world. "The power of music, being able to play an instrument…It looks like musicians just have the most fun."
The love-fest between the First Ladies of the Obama and Carter families have long openly expressed their love and admiration for each other. From Beyoncé's teary rendition of "At Last" in 2009 at President Obama's Neighborhood Inaugural Ball, to the "Video Phone" singer's open letter to the FLOTUS on Twitter (see below), to which Mrs. Obama responded, "@Beyonce Thank you for the beautiful letter and for being a role model who kids everywhere can look up to. –mo," they have proven to be stead-fast in their appreciation of each other.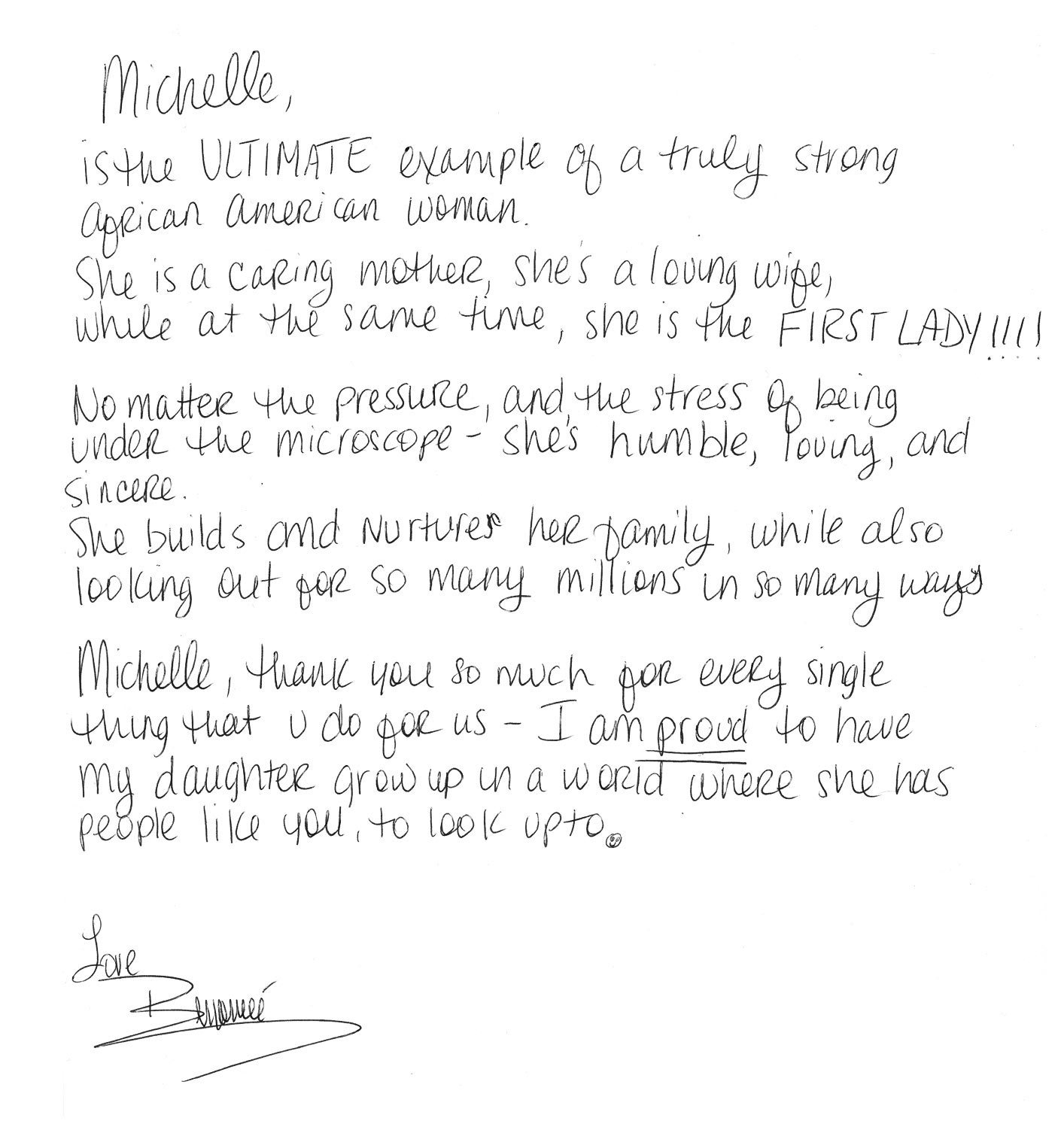 Want to Keep Up With NewsOne.com? LIKE Us On Facebook!
The First Lady, in addition to revealing that she'd be the bootylicious diva in a heartbeat, discusses her book, "American Grown," about the White House Kitchen Garden, reports the Daily Mail. She also shares the First Couple's evening ritual:
"We live above the store, which means 6.30pm is dinner. The first half hour, we're talking to the girls, then we shoo them off to go walk Bo and catch a little check-in without the kids.
'We have a ritual where he tucks me in, because I'm usually in bed before anybody. He'll come and turn the lights out and give me a kiss and we'll talk. He's like, "Ready to be tucked?" I'm like, "Yes I am."'
It doesn't get any cuter than that.
The People issue hits newsstands on Friday.
RELATED:
Don't Call it a Comeback! Queen Bey Rocks The Stage For First Time Since Blue Ivy's Birth
Well, Alright: FLOTUS Takes Sasha and Malia To Beyonce Concert
Also On News One:
55 Photos To Make You Miss The Obamas
1. Barack gives daughter Malia a kiss
Source:Toni L. Sandys/The Washington Post via Getty Images
1 of 49
2. Michelle and Barack tell the kids a story
Source:NICHOLAS KAMM/AFP/Getty Images
2 of 49
3. Michelle and Barack Kiss
Source:NICHOLAS KAMM/AFP/Getty Images
3 of 49
4. Michelle and Barack
Source:CHRIS KLEPONIS/AFP/Getty Images
4 of 49
5. First Family Portrait
Source:Getty
5 of 49
6. Two Terms
Source:Getty
6 of 49
7. Family Portrait
Source:Instagram
7 of 49
8. Michelle and Barack host a State Dinner
Source:Marvin Joseph /The Washington Post via Getty Images
8 of 49
9. Barack Obama and Michelle Obama
Source:Alex Wong/Getty Images
9 of 49
10. Fun In The Sun
Source:Instagram
10 of 49
11. The Obamas on Air Force One
11 of 49
12. The First Family in London
12 of 49
13. First Lady Michelle Obama with daughters Malia Obama and Sasha Obama
Source:Getty
13 of 49
14. Daddy's Girl
Source:Instagram
14 of 49
15. Sasha and Malia Obama at the 2016 State Dinner
Source:Getty
15 of 49
16. Turkey Pardoning
Source:Getty
16 of 49
17. Sunday Church
Source:MANDEL NGAN/AFP/Getty Images
17 of 49
18. Gobble, Gobble
Source:Chip Somodevilla/Getty Images
18 of 49
19. Obama & Sasha
Source:Instagram
19 of 49
20. Malia Obama, the First Daughter
Source:Getty
20 of 49
21. Barack Obama and his daughter Malia Obama
Source:BRENDAN SMIALOWSKI/AFP/Getty
21 of 49
22. A Family Affair
Source:Getty
22 of 49
23. Flashback To The Old Days
Source:Getty
23 of 49
24. Happy Birthday!
Source:Getty
24 of 49
25. Candidly Awesome
Source:Pete Souza/The White House
25 of 49
26. The Obamas Family Portrait
Source:Instagram
26 of 49
27. Historic First Family
Source:Getty
27 of 49
28. Ice Cream Treat
Source:Aude Guerrucci-Pool/Getty Images
28 of 49
29. TV Time
Source:Pete Souza/The White House
29 of 49
30. Always Giving Back
Source:Getty
30 of 49
31. A Christmas Story
Source:Paul Morigi/Getty Images
31 of 49
32. Hawaii Trip!
Source:Getty
32 of 49
33. Obama Loves Team USA & His Wife
Source:Getty
33 of 49
34. Malia and Sasha Obama
Source:SAUL LOEB/AFP/Getty Images
34 of 49
35. Michelle Plays on a Bike
Source:Mark Wilson/Getty Images
35 of 49
36. Obama Loves Team USA, His Wife & Malia
Source:Getty
36 of 49
37. Reading Time
Source:Getty
37 of 49
38. Family Support
Source:Getty
38 of 49
39. The Sister Selfie
Source:Pete Souza/The White House
39 of 49
40. Supporting Mom
Source:Pete Souza/The White House
40 of 49
41. Giving Back On MLK Day
Source:Getty
41 of 49
42. Obamas Give Back To The Community
Source:Getty
42 of 49
43. Always Supporting Small Businesses
Source:Getty
43 of 49
44. Obama Swagger
Source:MANDEL NGAN/AFP/Getty Images
44 of 49
45. Laughs & Turkeys
Source:Getty
45 of 49
46. Growing Up In The White House
Source:Instagram
46 of 49
47. Christmas With The Obamas
Source:Getty
47 of 49
48. 50th Anniversary Of March On Selma
Source:Getty
48 of 49
49. Christmas Tree Lighting
Source:Olivier Douliery- Pool/Getty Images
49 of 49