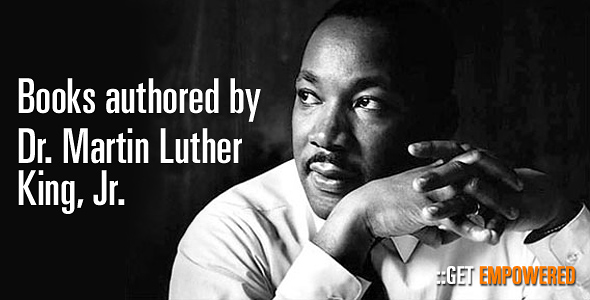 Here are some books authored by Dr. Martin Luther King Jr that you may be interested in reading.
Why We Can't WaitDr. King's best-selling account of the civil rights movement in Birmingham during the spring and summer of 1963

In 1963, Birmingham, Alabama, was perhaps the most racially segregated city in the United States, but the campaign launched by Fred Shuttlesworth, Dr. Martin Luther King, Jr., and others demonstrated to the world the power of nonviolent direct action.

Often applauded as King's most incisive and eloquent book, Why We Can't Waitrecounts the Birmingham campaign in vivid detail, while underscoring why 1963 was such a crucial year for the civil rights movement. King examines the history of the civil rights struggle and the tasks that future generations must accomplish to bring about full equality. The book also includes the extraordinary "Letter from Birmingham Jail," which King wrote in April of 1963.

From the Trade Paperback edition.
---
The Measure of a ManWhy nonviolence matters

A new book in Facets: brief, brilliant treatments of vital aspects of faith and life. Reviving a publishing initiative and innovative format from Fortress Press's early days, we proudly re-introduce Facets, a series that answers contemporary calls for bold thinking, clear ideas, and words that succinctly go to the heart of the religious and moral quest. Facets offers gems of religious writing from leaders who address today's more important or pressing questions-biblical, theological, and moral. Each book, offered at an economical price, presents a special angle that uniquely illumines an area or issue.

Eloquent and passionate, reasoned and sensitive, this pair of meditations by the revered civil-rights leader contains the theological roots of his political and social philosophy of nonviolent activism.
---
| | |
| --- | --- |
| | Strength to LoveThe remarkable courage and deep conviction of Martin Luther King Jr. live on in this classic prophetic text, a veritable primer in the principles and practice of nonviolence. Despite nearly fifty years since its publication, Strength to Love reads as pertinently to our situation as it did in the midst of the civil rights movement. Yet Strength to Love is more than a blueprint of a movement; it is a template for personal authenticity in an age when vast social and economic change demand and depend on personal integrity. As King averred, "Only through an inner spiritual transformation do we gain the strength to fight vigorously the evils of the world in a humble and loving spirit." This brief classic holds the key to that transformation. |
---
| | |
| --- | --- |
| | Where Do We Go from HereIn 1967, Dr. Martin Luther King, Jr., isolated himself from the demands of the civil rights movement, rented a house in Jamaica with no telephone, and labored over his final manuscript. In this significantly prophetic work, which has been unavailable for more than ten years, we find King's acute analysis of American race relations and the state of the movement after a decade of civil rights efforts. Here he lays out his thoughts, plans, and dreams for America's future, including the need for better jobs, higher wages, decent housing, and quality education. With a universal message of hope that continues to resonate, King demanded an end to global suffering, powerfully asserting that humankind—for the first time—has the resources and technology to eradicate poverty. |

Also On News One:
34 Photos That Will Make You Miss The Obama Family Already
1. First Family Portrait
Source:Getty
1 of 50
2. Two Terms
Source:Getty
2 of 50
3. Family Portrait
Source:Instagram
3 of 50
4. Barack Obama and Michelle Obama
Source:Alex Wong/Getty Images
4 of 50
5. Fun In The Sun
Source:Instagram
5 of 50
6. The Obamas on Air Force One
6 of 50
7. Hawaiian Holidays
Source:Instagram
7 of 50
8. The First Family in London
8 of 50
9. A Young Malia & Sasha
Source:Instagram
9 of 50
10. First Lady Michelle Obama with daughters Malia Obama and Sasha Obama
Source:Getty
10 of 50
11. Daddy's Girl
Source:Instagram
11 of 50
12. Barack & Sasha
Source:Instagram
12 of 50
13. Sasha and Malia Obama at the 2016 State Dinner
Source:Getty
13 of 50
14. Turkey Pardoning
Source:Getty
14 of 50
15. Sunday Church
Source:MANDEL NGAN/AFP/Getty Images
15 of 50
16. Gobble, Gobble
Source:Chip Somodevilla/Getty Images
16 of 50
17. Obama & Sasha
Source:Instagram
17 of 50
18. Malia Obama, the First Daughter
Source:Getty
18 of 50
19. Barack Obama and his daughter Malia Obama
Source:BRENDAN SMIALOWSKI/AFP/Getty
19 of 50
20. Team Obama
Source:Instagram
20 of 50
21. A Family Affair
Source:Getty
21 of 50
22. Flashback To The Old Days
Source:Getty
22 of 50
23. Happy Birthday!
Source:Getty
23 of 50
24. Candidly Awesome
Source:Pete Souza/The White House
24 of 50
25. The Obamas Family Portrait
Source:Instagram
25 of 50
26. Historic First Family
Source:Getty
26 of 50
27. Ice Cream Treat
Source:Aude Guerrucci-Pool/Getty Images
27 of 50
28. TV Time
Source:Pete Souza/The White House
28 of 50
29. Playing In The Oval Office
Source:Instagram
29 of 50
30. Always Giving Back
Source:Getty
30 of 50
31. A Christmas Story
Source:Paul Morigi/Getty Images
31 of 50
32. Hawaii Trip!
Source:Getty
32 of 50
33. Obama Loves Team USA & His Wife
Source:Getty
33 of 50
34. Malia and Sasha Obama
Source:SAUL LOEB/AFP/Getty Images
34 of 50
35. Michelle Plays on a Bike
Source:Mark Wilson/Getty Images
35 of 50
36. Obama Loves Team USA, His Wife & Malia
Source:Getty
36 of 50
37. Reading Time
Source:Getty
37 of 50
38. Family Support
Source:Getty
38 of 50
39. The Sister Selfie
Source:Pete Souza/The White House
39 of 50
40. Supporting Mom
Source:Pete Souza/The White House
40 of 50
41. Giving Back On MLK Day
Source:Getty
41 of 50
42. Obamas Give Back To The Community
Source:Getty
42 of 50
43. Always Supporting Small Businesses
Source:Getty
43 of 50
44. Obama Swagger
Source:MANDEL NGAN/AFP/Getty Images
44 of 50
45. Laughs & Turkeys
Source:Getty
45 of 50
46. Growing Up In The White House
Source:Instagram
46 of 50
47. Christmas With The Obamas
Source:Getty
47 of 50
48. Malia & Obama
Source:Instagram
48 of 50
49. 50th Anniversary Of March On Selma
Source:Getty
49 of 50
50. Christmas Tree Lighting
Source:Olivier Douliery- Pool/Getty Images
50 of 50