Meghan Markle is living the life. She is officially married to Prince Harry, had a historic Royal Wedding and enjoys a loving mother who has lent support every step of the way.
Therefore, the white side of her family has been in pure jealousy mode, especially her 53-year-old half-sister, Samantha Markle (side note: her married name is Samantha Grant but she suddenly started going by her maiden name when Meghan and Harry went public). After more than a year of slamming Meghan, she is now attacking Meghan's mother, who just so happens to be Black. (More on that later.)
See Also: UK Royal Wears Blackface Brooch, Offers Lame Apology To Meghan Markle
Doria Ragland was reportedly the only member of Meghan's family at the wedding. The world fell in love with her as she watched her daughter walk down the aisle. But Samantha, who was clearly fuming as she watched the wedding from her home in Florida, claims Doria is trying to cash in on her daughter's new life.
"Even Doria cashed in talking to Oprah and some of the first photos out there only she could have had," Samantha reportedly ranted in a tweet that has since been deleted.
In a still-posted tweet, Samantha pointed to an Doria's interview with Oprah Winfrey as her proof.
Clearly, Samantha does not know that Oprah has always said she doesn't pay for interviews.
That said, Samantha was hating on Doria long before Meghan was a royal. Samantha's own mother, 72-year-old, Roslyn, said her daughter is a racist. "When Tom Sr [Meghan's father] married Meghan's mom, Samantha told all her friends that Doria was the maid because she's Black," Roslyn told the DailyMail.com in November 2017. "She is not a nice person."
Samantha, who is apparently a bitter, angry, fame-hungry woman who admittedly doesn't have Meghan's phone number, even wrote a public letter to Prince Harry urging him not to marry her sister. Plus, she is writing a "tell-all" book, titled "The Diary of Princess Pushy's Sister," and reportedly selling the rights to make the book into a movie or television mini-series.
We imagine this is Meghan's reaction when she hears a story about her evil half-sister: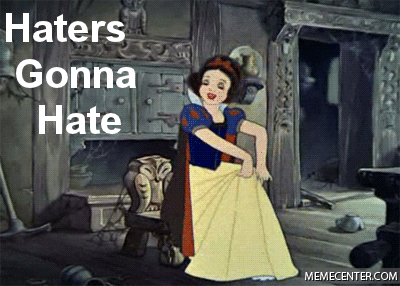 SEE ALSO:
Here's Why NewsOne Won't Be Covering One Iota Of The Royal Wedding
White House Spokeswoman Called 'Uncle Tom' At Correspondents' Dinner
Black Police Officer Shot And Killed In His Home