UPDATE 2/25/13, 12:21 p.m.: The CEO of The Onion, Steve Hannah, issued the following apology about the c*nt tweet about 45 minutes ago via Facebook:
Dear Readers,

On behalf of The Onion, I offer my personal apology to Quvenzhané Wallis and the Academy of Motion Picture Arts and Sciences for the tweet that was circulated last night during the Oscars. It was crude and offensive—not to mention inconsistent with The Onion's commitment to parody and satire, however biting.

No person should be subjected to such a senseless, humorless comment masquerading as satire.

The tweet was taken down within an hour of publication. We have instituted new and tighter Twitter procedures to ensure that this kind of mistake does not occur again.

In addition, we are taking immediate steps to discipline those individuals responsible.

Miss Wallis, you are young and talented and deserve better. All of us at The Onion are deeply sorry.

Sincerely,

Steve Hannah
CEO
The Onion
______________________________________
Want to Keep Up With NewsOne.com? LIKE Us On Facebook!
Known for their risque satire, popular website The Onion pushed the envelope too far Oscar Night by calling 9-year-old Oscar nominee Quvenzhané Wallis a "c*nt" on Twitter.

RELATED: 'Beasts Of The Southern Wild' Star Quvenzhane Wallis Cast As 'Annie'
Nominated for her break-out role in "Beast of the Southern Wild,' the future A-Lister,
recently tapped to reprise the role of  "Annie," continues to woo hearts all over Tinsel Town. The Onion attacked Wallis on Twitter, showing that they had forgotten what satire means with their distasteful and unimaginative remarks:
https://twitter.com/TheOnion/status/305900584278556672
Twitter instantly exploded:
The tweet has been deleted, but outraged Twitter users have taken screenshots of their feed at the time of the comment.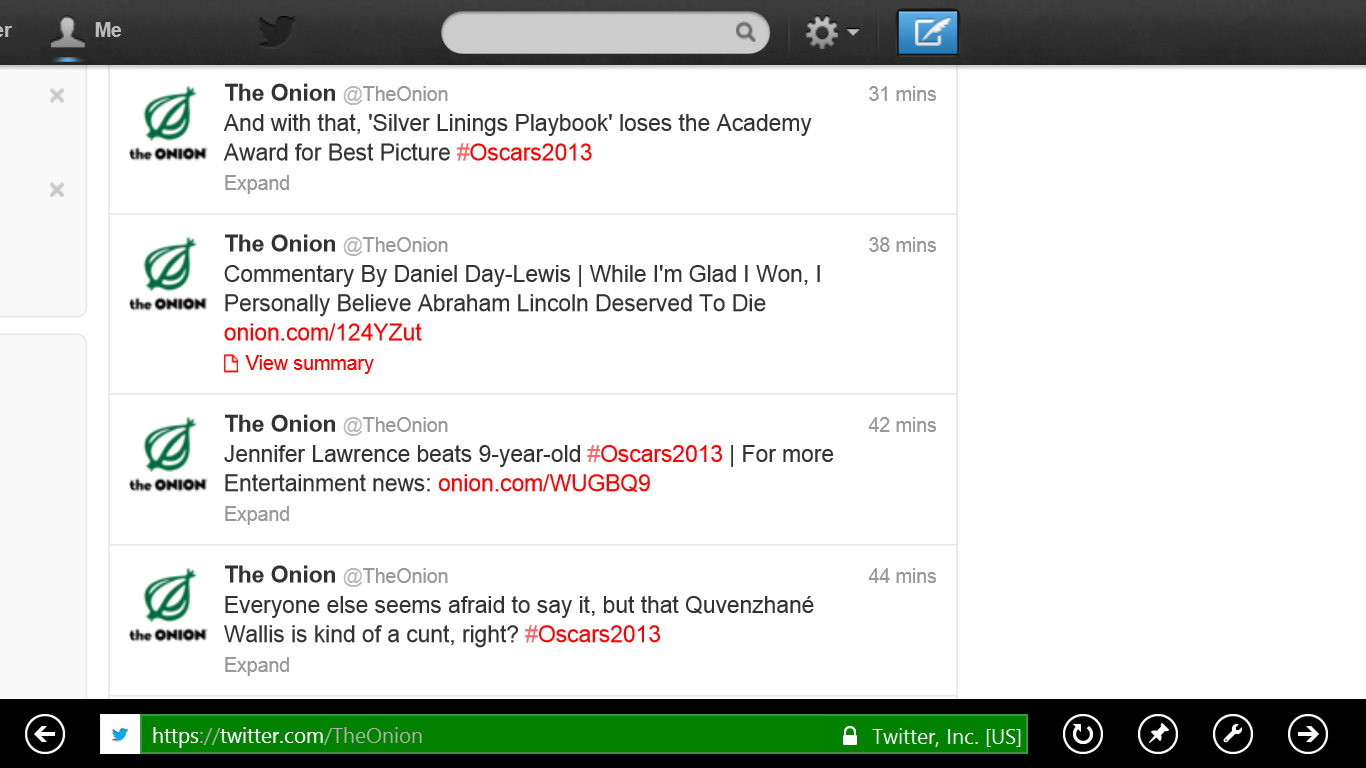 Of course, we all know what the Onion was going for, but they failed miserably and this is not going away.
Our Black girls deserve to cherished, respected, and protected just as much as their White counterparts. Before it's all said and done, 'The Onion' will understand this is not a game.
Sound off!
SEE ALSO:
 Middle of Nowhere: Filmmaker Ava Duvernay Wins Independent Spirit Award [VIDEO]
Want to Keep Up With NewsOne.com? LIKE Us On Facebook!
Also On News One:
55 Photos To Make You Miss The Obamas
1. Barack gives daughter Malia a kiss
Source:Getty
1 of 54
2. Michelle and Barack tell the kids a story
Source:Getty
2 of 54
3. Michelle and Barack Kiss
Source:Getty
3 of 54
4. Michelle and Barack
Source:Getty
4 of 54
5. First Family Portrait
Source:Getty
5 of 54
6. Two Terms
Source:Getty
6 of 54
7. Family Portrait
Source:Instagram
7 of 54
8. Michelle and Barack host a State Dinner
Source:Getty
8 of 54
9. Barack Obama and Michelle Obama
Source:Getty
9 of 54
10. Fun In The Sun
Source:Instagram
10 of 54
11. The Obamas on Air Force One
Source:Getty
11 of 54
12. Hawaiian Holidays
Source:Instagram
12 of 54
13. The First Family in London
Source:Getty
13 of 54
14. First Lady Michelle Obama with daughters Malia Obama and Sasha Obama
Source:Getty
14 of 54
15. Daddy's Girl
Source:Instagram
15 of 54
16. Barack & Sasha
Source:Instagram
16 of 54
17. Sasha and Malia Obama at the 2016 State Dinner
Source:Getty
17 of 54
18. Turkey Pardoning
Source:Getty
18 of 54
19. Sunday Church
Source:Getty
19 of 54
20. Gobble, Gobble
Source:Getty
20 of 54
21. Obama & Sasha
Source:Instagram
21 of 54
22. Malia Obama, the First Daughter
Source:Getty
22 of 54
23. Barack Obama and his daughter Malia Obama
Source:Getty
23 of 54
24. Team Obama
Source:Instagram
24 of 54
25. A Family Affair
Source:Getty
25 of 54
26. Flashback To The Old Days
Source:Pete Souza
26 of 54
27. Happy Birthday!
Source:Getty
27 of 54
28. Candidly Awesome
Source:Pete Souza
28 of 54
29. The Obamas Family Portrait
Source:Instagram
29 of 54
30. Historic First Family
Source:Getty
30 of 54
31. Ice Cream Treat
Source:Getty
31 of 54
32. TV Time
Source:Pete Souza
32 of 54
33. Playing In The Oval Office
Source:Instagram
33 of 54
34. Always Giving Back
Source:Getty
34 of 54
35. A Christmas Story
Source:Getty
35 of 54
36. Hawaii Trip!
Source:Getty
36 of 54
37. Obama Loves Team USA & His Wife
Source:Getty
37 of 54
38. Malia and Sasha Obama
Source:Getty
38 of 54
39. Michelle Plays on a Bike
Source:Getty
39 of 54
40. Obama Loves Team USA, His Wife & Malia
Source:Getty
40 of 54
41. Reading Time
Source:Pete Souza
41 of 54
42. Family Support
Source:Getty
42 of 54
43. The Sister Selfie
Source:Pete Souza
43 of 54
44. Supporting Mom
Source:Pete Souza
44 of 54
45. Giving Back On MLK Day
Source:Getty
45 of 54
46. Obamas Give Back To The Community
Source:Getty
46 of 54
47. Always Supporting Small Businesses
Source:Getty
47 of 54
48. Obama Swagger
Source:Getty
48 of 54
49. Laughs & Turkeys
Source:Getty
49 of 54
50. Growing Up In The White House
Source:Instagram
50 of 54
51. Christmas With The Obamas
Source:Getty
51 of 54
52. Malia & Obama
Source:Instagram
52 of 54
53. 50th Anniversary Of March On Selma
Source:Pete Souza
53 of 54
54. Christmas Tree Lighting
Source:Getty
54 of 54