When possible, we all have to find ways to resist. Whether it is filming police assaulting an unarmed man, peacefully protesting by kneeling, or what a young woman did on a Greyhound bus — shutting down some clearly racist border patrol agents.
SEE ALSO: Calls For Starbucks Boycott After The Company's Weak Apology For A Racist Arrest
On June 7, Tiana Smalls wrote on her Facebook that she was on a Greyhound bus from Bakersfield, California to Las Vegas, Nevada. When crossing the state line over to Nevada, the bus driver made an announcement,  "We are being boarded by Border Patrol. Please be prepared to show your documentation upon request."
"Show us your documentation" sounds very much like "Show us your papers" — Tiana was not here for it. According to her, she stood up loudly and said, "This a violation of your Fourth Amendment rights. You don't have to show them sh*t. This is illegal. We are We are not within 100 miles of an international border so that (sic) have no authority to ask you for anything. Tell them to f*ck off!"
Using Google, she translated what she said to the people on the bus who only understood Spanish. As the border agents got on the bus, they said they were about to ask people for "documentation. Smith says she stood up and yelled, "I'm not showing you sh*t! I'm not driving this bus, so you have no right to ask me for anything! And the rest of you guys don't have to show them anything, either! This is harassment and racial profiling! Don't show them a goddamn thing! We are not within 100 miles of a border so they have no legal right or jurisdiction here! Google it."
Smith said the agents looked "exasperated" and eventually got off the bus. Pretty damn epic. Read her whole full post below, which has gone viral.
Smalls has received tons of media requests from the post. She wrote on her Facebook, "I didn't do what I did, or share it for accolades or thanks. I appreciate the support, but I'm just little old me. All I wanted to do was let people know that that can and should speak up… even if that means risking being arrested." She also added, "If you want to thank me, speak up the next time you see someone being discriminated against, just speak up. That's all I want. I appreciate the love , but please, just pay it forward."
We love it, Tiana.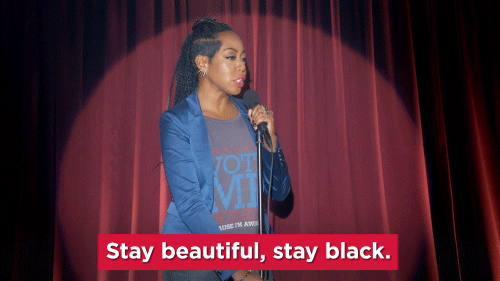 SEE ALSO:
Forgive But Don't Forget: Remembering Those Times When Barbara Bush Waded Into The Waters Of Race
Billy Graham's Complicated Relationship With Black America, Explained
Woman Shouts N-Word, Literally Stops The Show At 'Black Panther' NJ Screening