Kelly Marie Tran has made history. In role as Rose Tico in Star Wars, she is the first Asian-American actress to have a lead role in the franchise. However, some racist fans have been harassing her on social media for months. Tran has been bombarded with so many racist message she recently left social media all together. Now her co-star John Boyega is speaking out and he is not holding back.
SEE ALSO: Calls For Starbucks Boycott After The Company's Weak Apology For A Racist Arrest
The Vietnamese-American actress was called "Ching Chong Wing Tong" and other abusive names for months. However, she left social media and her Instagram bio now reads, "Afraid, but doing it anyway."
Clearly upset, John Boyega tweeted, "If you don't like Star Wars or the characters understand that there are decisions makers and harassing the actors/ actresses will do nothing. You're not entitled to politeness when your approach is rude. Even if you paid for a ticket!" See below:
He also tweeted, "To the majority of Star Wars fans thank you for supporting and putting yourselves in our shoes. You understand that there is a process so much appreciated!"
Even Gabrielle Union shouted out Tran, saying she was her "woman crush Wednesday" and writing, "While I don't know her, I FEEL her. She was recently driven off of social media due to harassment & bullying. It pains me to see underrepresented women feeling abused & isolated, all while having to defend their own existence. "
We certainly understand taking a break from social media, but we are sending all of our love to Kelly Marie Tran. Asian Americans are severely underrepresented in film. The haters can go straight to a Darth Vader hell.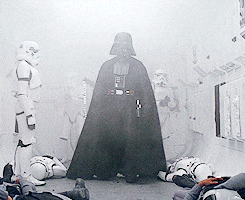 SEE ALSO:
Forgive But Don't Forget: Remembering Those Times When Barbara Bush Waded Into The Waters Of Race
Billy Graham's Complicated Relationship With Black America, Explained
Woman Shouts N-Word, Literally Stops The Show At 'Black Panther' NJ Screening