Most married couples would do anything to be together on their wedding anniversary. Not the Trumps — well, not Melania. According to CNN, the First Lady canceled a trip to  Davos, Switzerland, which fell on  their 13th wedding anniversary. The reason for the cancellation "scheduling conflicts." Scheduling conflicts? We rarely see her in public and allegedly she is non-existent at the White House. What exactly is in her packed schedule?
As Michael Wolff wrote in Fire & Fury, via an excerpt from People.com, their marriage is deeply dysfunctional and the two barely communicate. They go days not speaking, even when they are together at Trump Tower. "'He and Melania spent relatively little time together. … Often she did not know where he was, or take much notice of that fact,' Wolff writes, noting that Mrs. Trump also didn't know about or show much interest in her husband's business." According to Wolff, everyone around Trump found their marriage "perplexing."
The cancellation from the First Lady is amid reports that Donald Trump paid a porn star named Stormy Daniels $130,000 to stay quiet during the 2016 election. Allegedly, Trump cheated with Stormy while Melania was pregnant with their son Baron.
It's hard to believe Melania is even remotely happy — and let us never forget this classic moment below.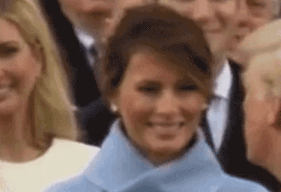 Wherever you are in the world Melania, happy anniversary!
SOURCE: CNN
SEE ALSO:
Will Alabama's Black Voters Turnout For Crucial Senate Race?
President Donald Trump's Voter Fraud Claims Could Lead To More Voter Suppression
Also On News One:
Happy Presidents' Day! 44 Photos To Make You Miss Obama
1. Barack Gives Daughter Malia a Kiss
Source:Getty
1 of 42
2. Michelle and Barack tell the kids a story
Source:Getty
2 of 42
3. Michelle and Barack Kiss
Source:Getty
3 of 42
4. Michelle and Barack
Source:Getty
4 of 42
5. First Family Portrait
Source:Getty
5 of 42
6. Two Terms
Source:Getty
6 of 42
7. Michelle and Barack host a State Dinner
Source:Getty
7 of 42
8. Barack Obama and Michelle Obama
Source:Getty
8 of 42
9. The Obamas on Air Force One
Source:Getty
9 of 42
10. The First Family in London
Source:Getty
10 of 42
11. First Lady Michelle Obama with daughters Malia Obama and Sasha Obama
Source:Getty
11 of 42
12. Sasha and Malia Obama at the 2016 State Dinner
Source:Getty
12 of 42
13. Turkey Pardoning
Source:Getty
13 of 42
14. Sunday Church
Source:Getty
14 of 42
15. Gobble, Gobble
Source:Getty
15 of 42
16. Malia Obama, the First Daughter
Source:Getty
16 of 42
17. Barack Obama and his daughter Malia Obama
Source:Getty
17 of 42
18. A Family Affair
Source:Getty
18 of 42
19. Flashback To The Old Days
Source:Pete Souza
19 of 42
20. Happy Birthday!
Source:Getty
20 of 42
21. Candidly Awesome
Source:Pete Souza
21 of 42
22. Historic First Family
Source:Getty
22 of 42
23. Ice Cream Treat
Source:Getty
23 of 42
24. TV Time
Source:Pete Souza
24 of 42
25. Always Giving Back
Source:Getty
25 of 42
26. A Christmas Story
Source:Getty
26 of 42
27. Hawaii Trip!
Source:Getty
27 of 42
28. Obama Loves Team USA & His Wife
Source:Getty
28 of 42
29. Malia and Sasha Obama
Source:Getty
29 of 42
30. Michelle Plays on a Bike
Source:Getty
30 of 42
31. Obama Loves Team USA, His Wife & Malia
Source:Getty
31 of 42
32. Reading Time
Source:Pete Souza
32 of 42
33. Family Support
Source:Getty
33 of 42
34. The Sister Selfie
Source:Pete Souza
34 of 42
35. Supporting Mom
Source:Pete Souza
35 of 42
36. Giving Back On MLK Day
Source:Getty
36 of 42
37. Obamas Give Back To The Community
Source:Getty
37 of 42
38. Always Supporting Small Businesses
Source:Getty
38 of 42
39. Obama Swagger
Source:Getty
39 of 42
40. Laughs & Turkeys
Source:Getty
40 of 42
41. Christmas With The Obamas
Source:Getty
41 of 42
42. 50th Anniversary Of March On Selma
Source:Pete Souza
42 of 42